Kansas City Medspa Skincare Products & Treatment
Searching for Kansas City Skincare treatment or products? MedSpa Skincare could be the solution to your skincare concerns.

Whether you fall into bed with makeup still on or have a strict skincare regimen, our medical-grade skincare line can support and enhance your skin, particularly as you age.

Taking care of your skin can help minimize the effects of aging and leave you feeling more confident and comfortable.
At Plaza Aesthetics and Wellness, we carry four physician-grade ranges as part of our MedSpa Skincare. 
What makes these brands so unique?
A physician's office can only carry these products 

They are governed by the FDA 

They have been proven in clinical trials 
The brands we carry are 
Plaza Aesthetics & Wellness

Alastin

SkinBetter Science 

Obagi 

Vivier

Neocudis
We focus on products that will offer the best value while also providing the best long-term results.
Pharmaceutical-Grade
Skincare for the Best Results
We often hear patients say, "I don't want to age like my parents" and "I want to look as youthful as possible." Sound familiar?
In our modern world, we have access to products that our parents didn't. Not only is skin care technology more advanced, but skin care products are more widely available and affordable. 
With a good skin care regimen and possible injectable treatments, we can hopefully get to the point where we can preserve our skin's elasticity and appearance. 
Do you have any of these skin concerns?
Wrinkles 

Acne 

Redness 

Dry skin 

Aging skin 

Sensitive skin 

Pigment issues
If you do, one of our medical-grade skincare products might be effective on your skin. Studies show that only pharmaceutical-grade active ingredients are effective at helping with these kinds of skin complaints.
How Can You
Support Your Skin?
Although there are other ways to support skin health, these four areas form the basis of a good skin care regimen. 
If you have a good skincare routine, adding other elements based on your skin concerns is easy.
1. Cleanser
It might seem obvious, but cleansing your face is vital for optimal skin health. 
Many people use makeup wipes or Micellar water and may not even wash their face at night. If you don't have an effective cleansing routine, then impurities can remain on your skin, causing breakouts and increasing pore size. It would be best if you were cleansing your face with a good quality facial cleanser every morning and night. 
2. Sunscreen
Too often, we underestimate the damage that the sun can cause to our skin. Not only can extensive sun damage cause skin cancer, but as you age, you might notice brown sunspots and areas of pigmentation. 
Saying no to sunscreen means saying yes to fine lines and wrinkles. Although crow's feet and the like are a normal part of getting older, you can reduce their appearance simply by applying sunscreen before you start your day.
3. Vitamin C Serum
Once you have cleansed your face, a Vitamin C serum can help stimulate collagen and elastin in your skin. This will keep your skin looking smoother and firmer. 
Vitamin C can also reduce the impact of oxidative stress and free radical damage your skin is exposed to.
4. Vitamin A Cream
Using some form of retinol, retinoid or tretinoin cream can help slough off the superficial layer of the skin and reveal bright, fresh, new skin underneath.
MedSpa Skincare at
Plaza Aesthetics and Wellness
At Plaza Aesthetics and Wellness, we offer a complimentary skin analysis using our Visia system and a complimentary consult with one of our skincare professionals. By using the Visia system, we can get a comprehensive understanding of what your skin needs and create a customized treatment plan for you.

When you sit with us, we review your questions and concerns and draw up a treatment plan with your beauty budget in mind. We want to offer you the best results possible in a way that doesn't break the bank.
Quality Products =

Quality Results
Your skin health says a lot about your body, and it can affect how confident you feel.
It's easy to pick up a cleanser and moisturizer from the pharmacy. But if you want long-lasting results and real skin health, a pharmaceutical-grade skincare range is the best option. 
When you have a complimentary skin analysis at Plaza Aesthetics and Wellness, you can get a comprehensive understanding of what your skin needs and tackle skin issues holistically. 
If you are struggling with the skin you're in, contact us to discuss our MedSpa Skincare range.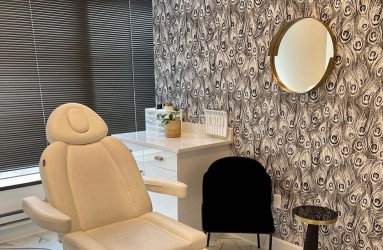 If your goal is to reduce scarring, wrinkles or even out pigmentation, you will only see significant results with pharmaceutical grade products. The difference is, these products contain active pharmaceutical grade ingredients that will change the texture and tone of your skin. Plaza Aesthetics & Wellness exclusively uses VivierPharma®, a skincare line that is governed by the FDA. Dr Botros and staff can recommend a skincare regimen that will address your needs with your budget in mind. Pharmaceutical grade products are an investment in your skin.
Let the Professionals at Plaza Aesthetics and Wellness

take Care of your Kansas City MedSpa Skin care Needs
When considering any MedSpa Skincare procedure, you should always choose a physician-owned and operated establishment.
Not only will they have top-quality equipment, but they will also have the necessary skills, training, and qualifications to provide expert service.
When it comes to your skin, you don't want to take any chances, which means ensuring that a licensed medical professional is involved from your first consultation until your last treatment. They will also provide the correct information before your treatment begins as well as post-treatment care.
Getting the best results requires the best care, contact us today to start your MedSpa Skincare journey.