Photo Rejuvenation In Kansas City
Searching for Kansas City BBL Photo Rejuvenation treatment? Photo rejuvenation is just what you need to help repair your skin after too much time outside.

It's easy to forget how damaging the sun is to your skin when you are young and living life. But as you get older, you may notice age spots (hyper pigmentation), redness, and even broken capillaries.

As you age, your brown pigmentation marks or sun spots can worsen, and you may notice them more prominently on your hands, neck, and face.

Luckily, with today's technology, there is a way to reduce sun damage and pigmentation safely and effectively.
Photo rejuvenation is also called a photo facial. 
The specific technology that we use is the Sciton BBL Hero. While many people refer to this as a "laser," it is actually a wavelength of light that is emitted into the skin. It is the most powerful, intense pulsed light device available. It delivers heat under the skin to eliminate brown spots and broken capillaries. 
BBL stands for BroadBand Light, and it penetrates deep into the skin to decrease pigmentation and redness. The targeted pigment is destroyed by absorbing the heat from the light, leaving healthy skin behind. 
All of this is done with no downtime required.
How does
Photo Rejuvenation Work?
Photo rejuvenation has two main targets. 
Melanin or pigment 

Redness and broken capillaries 
It is an ideal treatment for flat pigmentation on the skin from sun damage as well as rosacea.
At Plaza Aesthetics and Wellness, we see a equal split in which concerns bring patients in for photofacials, between redness and pigment. Now that patients are more vigilant about wearing sunscreen and not using tanning beds, we see less sun damage, particularly in younger patients. 
With the Sciton BBL Hero you should only feel minimal discomfort. While the treatment will be warm, the sapphire at the end of the wand helps keep the surface of the skin cool and comfortable.
Hero stands for High Energy Rapid Output, and this technology provides a better outcome in a much quicker time. We are now able to administer multiple pulses in succession, which eliminates the time that was needed to readjust between pulses. This equates to a much shorter treatment session for our patients, saving them valuable time and money.
How Long Does it
Take to See Results?
Kansas City Photofacials with the Sciton BBL Hero are non-invasive, which means they are not a one-and-done procedure. Instead, you will require a series of appointments and maintenance treatments to keep your skin in tip-top shape. 
If you are targeting pigment in your skin, we will start with one treatment a month for three months. If redness is your main concern, we will perform one treatment a month for five months. While these are the standard guidelines we follow, each treatment plan is individualized, and will be customized to meet each patient's needs and beauty budget.
When using a non-invasive procedure, the results take time to see, but they allow you to be more flexible in your schedule and require no downtime. You should have a minimum of two treatments per year, although we recommend having one quarterly. 
If you want good long-term results, you can purchase a package or membership that works for you and your skin. If you have at least two treatments a year for several years, you will also notice a change in the overall quality of your skin, including fine lines, pore size, and tightness.
Choosing Plaza Aesthetics &
Wellness for your Skincare Needs
Choosing a physician-owned and operated facility is vital when doing photofacial treatments.

Not only do you want the best results for your skin, but you also want to know that you are dealing with licensed professionals who can keep you safe.

At Plaza Aesthetics and Wellness, we consider all our patients' concerns during our complimentary consultations. Once we start the procedure, we treat all of the issues that the patient has expressed to us, which could include broken capillaries, generalized redness, rosacea, and sun damage. Working on all of the concerns our client has expressed is included in the price of the treatment.
Who Are Photo

Facials Best For?
We see a lot of men and women who are interested in the BBL IPL treatment. 
When a man is interested in photo rejuvenation, we ask that they shave before they come in for the procedure. Because the BBL targets melanin, it can temporarily thin out facial hair. We also numb the area where male clients have hair as it can be more painful, and we want to keep them comfortable during the procedure. Some men opt only to target the upper part of the face that is free of facial hair. 
Women of all ages come to Plaza Aesthetics and Wellness for photofacials. We don't routinely use numbing agents for women as the treatment is typically bearable. However, the light is very bright, so we use protective eyewear with our patients.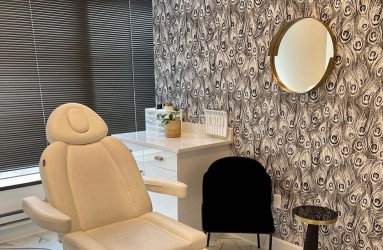 The Forever Young BBL® laser can treat a wide variety of conditions including: age spots, freckles, redness, small vessels, acne and can also reduce unwanted hair.
First, a cool gel is applied to the treatment area. Second, a chilled applicator is placed on the skin to deliver the light therapy.
No. In most cases, you can apply makeup immediately and return to your normal routine.
Choose a PhotoFacial
for Healthy Looking Skin
Whether you are meticulous about wearing sunscreen or could work on improving your skin care, photofacials offer a quick way to repair your skin.
When done right, it is a non-invasive way to get rid of dark marks and signs of wear and tear that you get from living a full and active life.
So, if you want to repair your skin and leave it looking fresh and healthy, contact us to set up a complimentary consultation to see if photo rejuvenation is right for you.