Laser Hair Treatment Removal In Kansas City
Searching for laser hair removal in Kansas City? If you are tired of waxing, shaving, and hair removal creams, consider giving laser hair removal a try.

Not only is it a non-invasive procedure, but after a series of virtually painless sessions, your pesky body hair will be permanently removed.

Isn't it amazing that modern technology allows us to zap away our unwanted body hair?
This procedure uses a laser to target melanin or pigment in the root of the hair. By destroying the melanin in the root, you destroy the hair and prevent it from growing back. 
It is a gentle and non-invasive process that leaves your skin looking smoother than other hair removal methods. 
You can get laser hair removal anywhere on your body, but the most common areas are: 
Face 

Back 

Chest 

Arms 

Underarms 

Bikini line or Brazilian

Legs
At Plaza Aesthetics and Wellness, we have two FDA-approved lasers.
The Palomar Vectus has a large handpiece that makes the treatment quick and uses diode laser technology.
The Sciton BareHR laser is ideal for diverse and darker skin tones because it has two laser options. It has a diode laser and a blend laser. The blend laser combines three different laser wavelengths, including the 1060 wavelength, which is ideal for darker-pigmented skin. Many practices cannot safely treat darker skin tones, so having two versatile Kansas City laser hair removal options sets Plaza Aesthetics and Wellness apart. 
Both of these lasers have a cooling probe to cool the skin as the laser fires which helps to alleviate the pain. The cooling probe helps reduce the rubber band snap sensation you may feel after the laser has fired. This makes the treatment more tolerable. There are other things that you can do to manage discomfort as well, such as ice or a Zimmer cooler. 
Laser hair removal is not a one-and-done procedure, so a series is required. The average patient has 90% hair removal after eight treatments, but some patients may require touch-ups. There are patients that are outliers and may require more than eight treatments, this will be discussed during your complimentary consultation.
How to Prepare for Your
Hair Removal Treatment
There are a few ways that you can prepare for laser hair removal treatment in Kansas City to ensure you get the results you want. 
The main inhibiting factor is sun exposure. This applies to both pre-treatment and post-treatment. Avoid direct sun before and after your treatment, and if you can't, make sure you use at least an SPF 30 sunscreen. 
Before your treatment, you don't want to do anything that will change the color of your skin. This is because the laser targets pigment, and it needs to have a focused target for the treatment to be effective. Before your procedure, avoid sun exposure, sunless tanners, and spray tan. Anything that will add pigment to your skin will also make you more susceptible to burning during the laser treatment.
An indication of a successful treatment is perifollicular edema. This is a red ring that forms around the hair. It doesn't always occur for every treatment, but if you notice redness around the area, keep it clean to prevent bacteria growth and folliculitis.
It Sounds Amazing,
but What Does it Cost?
This type of hair removal treatment can be costly, but the price of the procedure has gone down since it was initially developed in the nineties.

At Plaza Aesthetics and Wellness, our prices are middle-of-the-road and fair for the industry. We pride ourselves on affordable and safe skin care treatments while being a physician-owned and operated establishment staffed with licensed professionals.
Try One of

Our Memberships
We do offer a laser hair membership. When you come in for a complimentary consultation, you will see a registered nurse or a licensed esthetician who will make recommendations on your treatment process. Routinely there are eight treatments in the series. 
When you utilize our membership, you will essentially pay for six treatments and get the final two free. We understand that life is expensive, and we are happy to split up the payments over 12 or 18 months. 
Having the skin you want shouldn't break the bank, and we try to accommodate our patients as much as possible.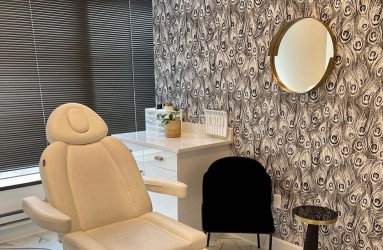 Let the Professionals at Plaza Aesthetics and Wellness

Take Care of your laser hair removal Treatment
When considering any laser skin care procedure, you should always choose a physician-owned and operated establishment.
Not only will they have top-quality equipment, but they will also have the necessary skills, training, and qualifications to provide expert service.
When it comes to your skin, you don't want to take any chances, which means ensuring that a physician or licensed professional is involved from your first consultation until your last treatment. They will also provide the correct information before your treatment series begins and answer any post-treatment care questions.
Getting the best results requires the best care, contact us today to start your laser hair removal journey.