Chemical Peel Treatment In Kansas City
Searching for Chemical Peels in Kansas City? Chemical peels exfoliate your face, but did you know that cosmetic exfoliation dates back to the ancient Egyptians?

They used to use rotten milk to exfoliate their skin. Luckily modern technology allows us to exfoliate our skin more effectively and with a much more pleasant odor.

If you want to diminish the appearance of wrinkles and uneven skin tone, then a chemical peel may be the best treatment option for you.
A chemical peel involves chemical exfoliants being applied to the face. The chemical solution can offer a superficial, medium-depth, or deep peel.
Some peels can be self-neutralizing. That means the mechanism of chemical exfoliant is automatically neutralized and turned off. Other peels need to be manually neutralized, and you have to remove the chemical solution from the skin.
Common components of a chemical peel:
Salicylic acid
Glycolic acid
Lactic acid
Trichloroacetic acid
The components of a chemical peel are mixed in various percentages for different treatment depths.
How Does a
Chemical Peel

Benefit Your Skin?
The chemicals help to slough off dead cells on the surface of the skin, leaving it smooth while also stimulating collagen production. The chosen peel solution induces a controlled injury to the skin. As your skin begins to heal, fresh new tissue is regenerated.
What to
Expect

after a Chemical Peel?
You can expect some downtime after any chemical peel but how long you will be out of action depends on the type of peel you have.
It's vital that you wear sunscreen after a chemical peel or, better yet, stay out of the sun altogether. You must also be aware of what you put on your face, as some products may cause irritation.
As the name suggests, your skin will peel after a chemical peel. How much you peel, though, depends on the type of treatment and your skin. Some people peel aggressively like a snake shedding its skin, while others only have a mild slough.
If you are doing a chemical peel treatment in Kansas City for the first time, you might notice a more aggressive peel. The amount of skin you shed is not an indication of the effectiveness of the treatment but rather just your skin's reaction.
Kansas City Chemical Peels


at Plaza Aesthetics and Wellness
At Plaza Aesthetics and Wellness, chemical peels are always performed by a licensed esthetician.
When you come in for a complimentary consultation, we will do a skin analysis using our Visia system. This gives us a comprehensive understanding of what is going on in your skin.
We will then cleanse and degrease your face. Extra oils on your skin can cause the chemical peel to behave in a way we don't want. Removing excess impurities and oil is crucial for an effective treatment.
Protecting your mucous membranes is essential during a chemical peel, and we will cover your eyes and nose.
Although the components of a chemical peel can be customized, we don't customize our peels. For example, a peel with more mandelic acid is better if you want to target redness. If you have active acne, a chemical peel with a higher salicylic acid content works best.
We offer the Perfect Derma Peel, a trichloroacetic acid peel that treats most skin concerns.
Vivier Peel
The Vivier Peel is a gen­tle yet ef­fec­tive peel that helps brighten and tighten your skin. It uses pharmaceutical-grade ingredients and has less downtime than other peels.

It offers gentle exfoliation that helps to stimulate collagen production. This improves the appearance of fine lines and wrinkles and can also help if you have acne-prone skin.

Even though we don't currently offer this peel, we may bring it back at any time.
Our Jessner Peel is suitable for everyone, and the active ingredients consist of 14% Lactic acid, 14% Salicylic acid, and 14% Resorcinol. It is a fairly aggressive peel that helps minimize pore size, fine lines, and sun damage like hyperpigmentation. This peel is most effective when combined with a pharmaceutical-grade skincare regimen.
Even though we don't currently offer this peel, we may bring it back at any time.
The perfect derma peel is the strongest and most effective chemical peel we offer at Plaza Aesthetics and Wellness. It contains Glutathione, a powerful antioxidant, as well as Salicylic acid which exfoliates the skin and reduces inflammation, while Kojic acid stimulates collagen and elastin production, leaving you with firmer skin.
Choose a
Professional Medical Spa
Licensed estheticians should perform a chemical peel because they can accurately evaluate your skin to determine the best course of treatment.

Once they have applied the peel solution, they will check to see if any areas are reacting or if something concerning is happening on your skin. For example, if your chemical peel is performed by someone not well-trained in the procedure, they may apply it more times than your skin can handle, which can cause burning.

They also might not know tips of the trade, like applying a chemical peel solution with cotton rather than a brush. When you apply the solution with a brush, it can flick, causing damage to your clothing. It may also get into your eyes.

When working with a professional esthetician, they can immediately notice any adverse effects and remove the peel solution.
Carefree
Chemical Peels

at Plaza Aesthetics and Wellness
At Plaza Aesthetics and Wellness, we take the guesswork out of choosing the right chemical peel for your skin. Not only will we give you all the information you need, but our licensed professionals will ensure you get the best results in the safest way.
Contact us for a complimentary consultation to learn more about chemical peels.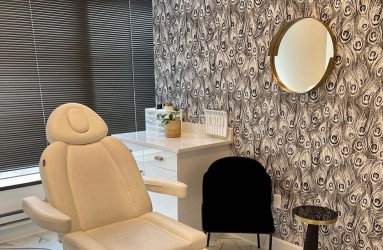 Chemical Peels Treatment

FAQS
Let the Professionals at Plaza Aesthetics and Wellness

take Care of your Chemical Peels Treatment
When considering any Chemical Peels treatment, you should always choose a physician-owned and operated establishment.
Not only will they have top-quality equipment, but they will also have the necessary skills, training, and qualifications to provide expert service.
When it comes to your skin, you don't want to take any chances, which means ensuring that a licensed medical professional is involved from your first consultation until your last treatment. They will also provide the correct information before your treatment begins as well as post-treatment care.
Getting the best results requires the best care, contact us today to start your Chemical Peels treatment journey.